Your 4WD should have some necessary comforts. When tripping away for a holiday it is likely that you'll want to configure your families own individual needs and the best way to do that is a set of rear drawers.
Other storage products available include:
Generator bags, water bra, stubby, tinnie, wine tubes, seat organiser, rear wheel bag, Rear Wheel Rubbish bin, tourer and basket packs and more.
Outback 4WD Interior Accessories have many years of experience in supplying Australia with products that are carefully engineered and designed to ensure you're getting the best from your storage in your vehicle. One great point to make is that these modular systems have easy removal and installation and are compatible with cargo barrier systems.
We also provide Cargo Barriers as a half barrier designed for the back of your draw system or full barriers that can be mounted in two different points.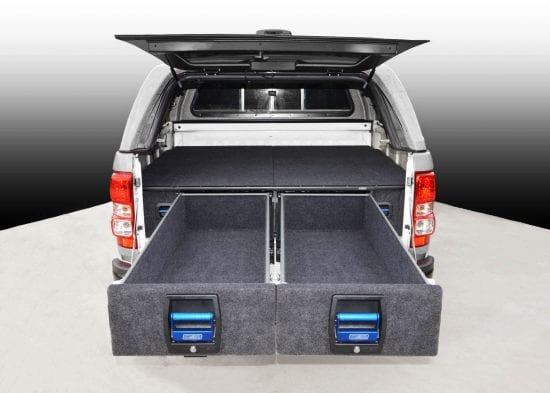 MSA Drawer Systems
MSA have created a brand-new drawer system from the ground up that has completely revolutionised what storage drawer system should be. After more than 3 years in development, the Explorer Aluminium Storage Drawer System was launched and to its testament, immediately became one of MSA 4X4 storage solution fit out, which includes drawers, drop slides, fridge barriers, seat organisers and a multitude of canvas storage accessories.