Of the dozens of items we jam into our vehicles before we hit the trail, few are more vital than a means of elevating a vehicle. Whether you get stuck in the sand or shred a tyre, the often-overlooked jack will be your best friend.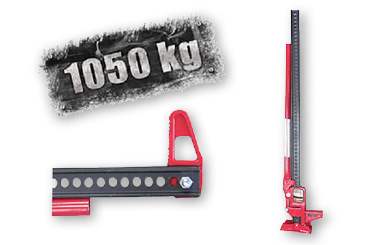 Hi-Lift Jack
Your vehicle has a conventional jack for tyre changing, but that will not be suitable on a soft ground or rutty environment. Chances are when you damage a tyre it won't be on a flat hard surface. Just as important you must have the means to jack your vehicle up in a bog or a grounding to enable you to infill the terrain to give adequate support.
With a lifting capacity of 1050kg, the Hi Lift jack has proved itself to be a reliable and trusted tool. Features include 1070mm lift height, durable carry bag to keep things neat and tidy, it can also be used to pull, push, lift and winch.